Moving Forward with Hopscotch PTBO. 
I am overjoyed to announce a new opportunity to work on a mural project with the City of Peterborough. The goal is to rejuvenate and beautify our outside spaces with large scope illustrations people can enjoy as they walk, dine and shop on Hunter St. West. 
Hopscotch PTBO is a celebration of moving forward aiming to reinvigorate the community with the joy and movement of art.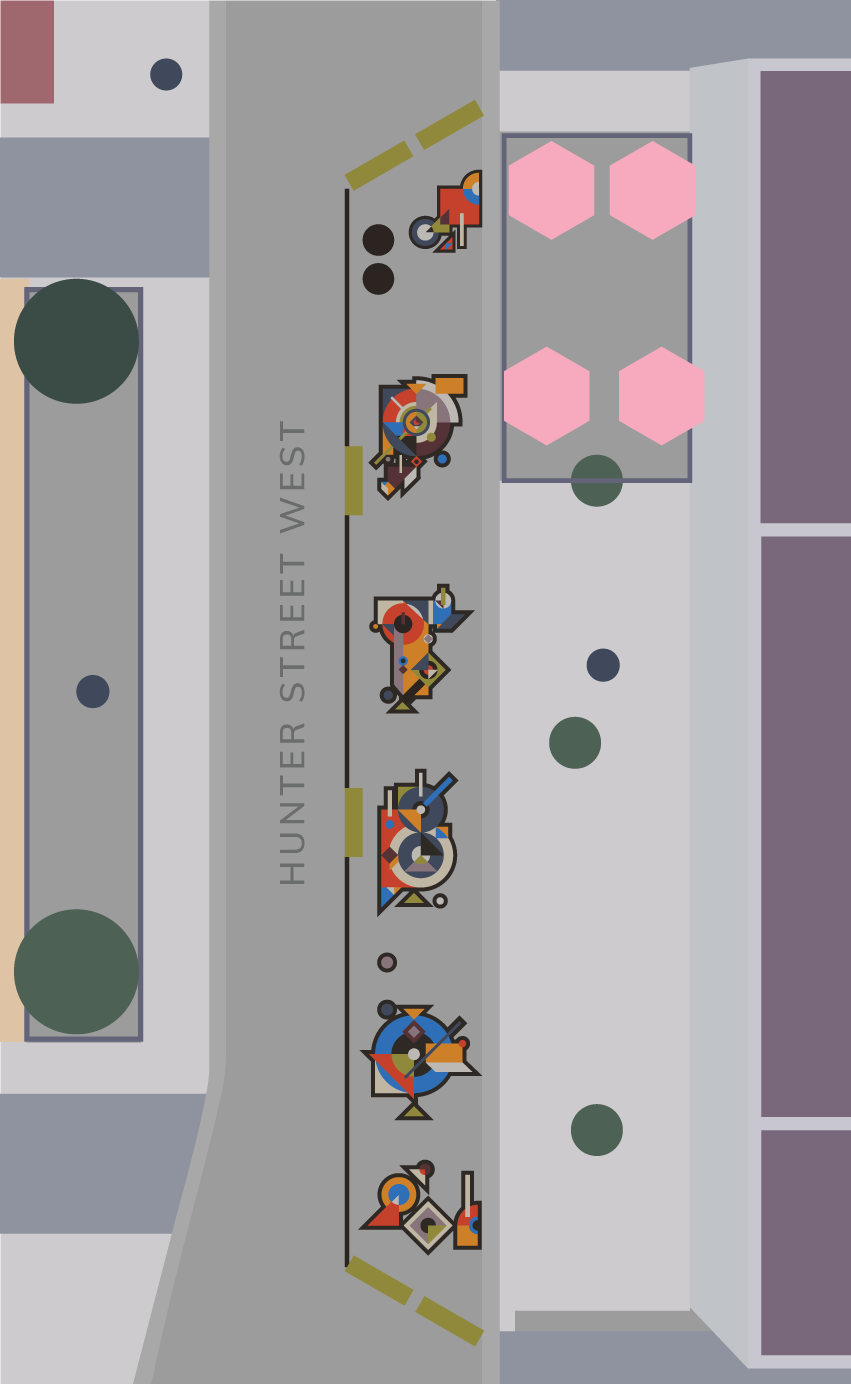 It's been a long year (and a bit) and I think it's important to recognize our fantastic local businesses for their hard work and insane amount of patience, ingenuity, and tenacity during these insane times.
A huge thanks to The One Eighty, The Toy Shop, Henry's Barber Shop, The Night Kitchen, Meta4 Gallery, Gerti's, Black Honey, Karma's Café, The Running Room, The Red Dog, Ball Real Estate, La Hacienda, Sams Place, Kettle Drums, Hanoi House, The Dirty Burger, Spankys and the many businesses that have welcomed us into their space to create this work.
(If you wanted to be added to this list please contact me here!)
The Process is always a learning experience.
Creating a thorough project proposal for the city was a great experience, made easier by the wonderfully organized and exhaustive brief provided by Public Art Facilitator Wendy Trusler ­– a celebrated local interdisciplinary artist, designer and writer. Developing the proposal over a handful of weeks reminded me that having the time to step away from your work and come back to it is so vital in the creative process – it allows you to gather your thoughts, remove excess and redundancies and get to the core of solving the problem put in front of you.
When I started creating the proposal I knew one thing for certain: I wanted the review comity to be able to visualize the space and really grasp the fun and playfulness of my concept. Not only was the writing component important but it was crucial to the success of this project to create assets that interpreted the concept easily. Without those assets the concept appeared too abstract and unstructured.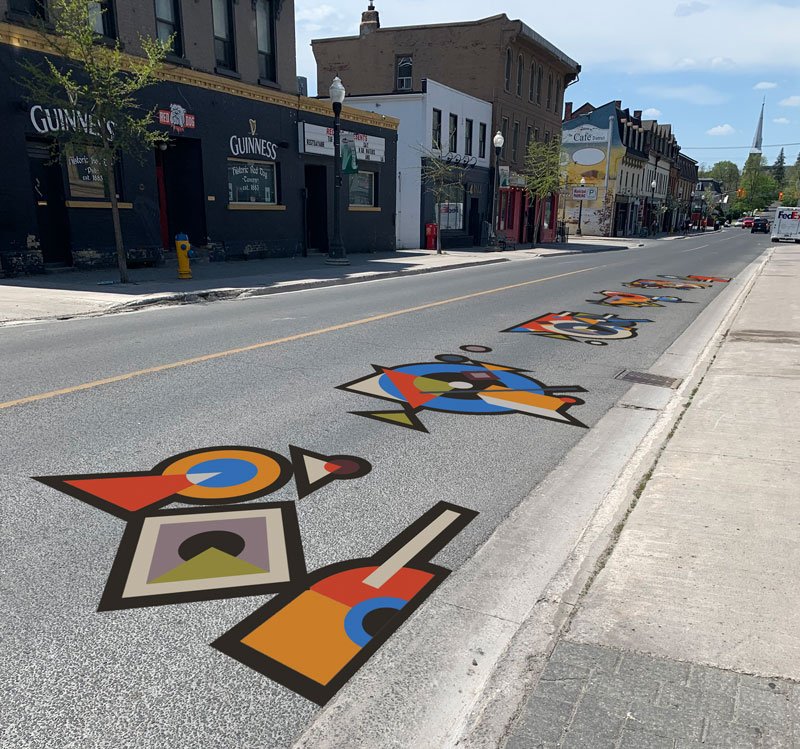 Bringing the idea of "home" – home.
Born and raised in Peterborough, Ontario, I know there's a certain pride we have in this town that is a unique combination of beautiful greenery, scenic water spaces, and vivid city condensed into one entity. I knew I had to play on the widely known PTBO short form in some way to celebrate the city and downtown space. It was also essential to try and influence the way people move when they interact with the design.
I'm an avid long-distance walker and I frequently see hopscotch patterns as I cross through the multiple suburban spaces around the north end of town. And just like that this idea was born and could not only feed my interest to explore geometric and abstract form, but also incorporate a playful, child-like story to energize the space and tempt people to play with the installation.
Saying "yes" to the scary.
It's been a strange year. My life has gone from having a job, losing a job and starting my own business – which admittedly has its challenges as most small business owners know.
A new thing I'm taking on in this project is a total leadership role. I'm learning quite quickly that organizing a team of people can be a bit stressful, but also invigorating! I don't like to think of myself as a boss though. I really think a successful team needs to have a solid foundation of respect, clear communication, and an understanding of everyone's talents and abilities – to let those shine and breathe. This is also a great project to get back into a bit of socializing too.
Side note: a huge thank you to Lindsay Jones (LJJonesCreative), Ashley Hall (OrngCrmScle), JT Smith (Event and Portrait Photographer) and longtime supportive friend and wonderful artist Morgan McKeiver.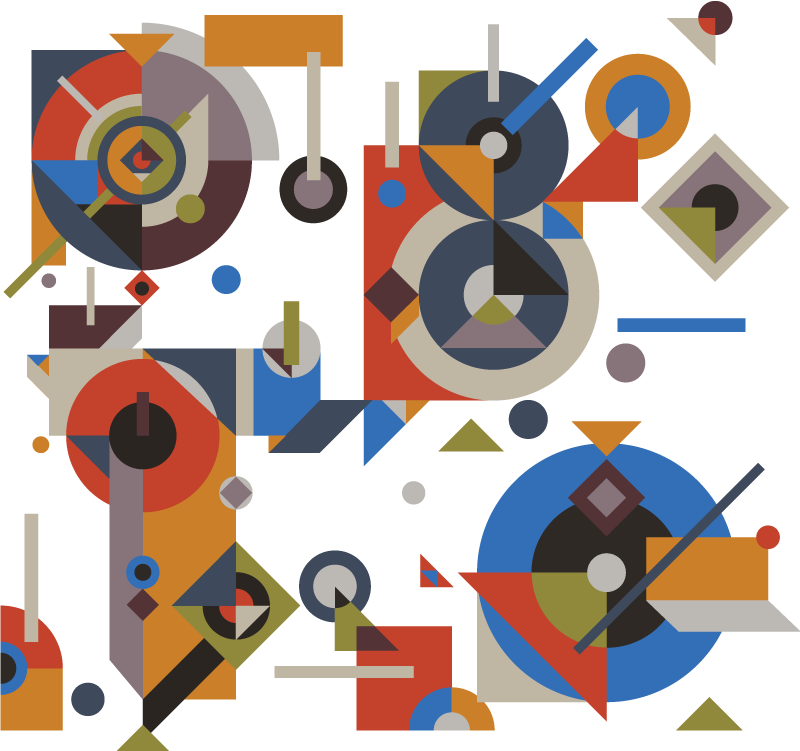 As the project continues to develop there's always little hitches with small details like waivers, waiting for supplies, weather, coordinating with other projects happening at the same time and all that comes with these large projects. It's something I'm learning to ebb and flow with – though I can't wait to make it happen!
And as much as I love to come off as a badass, there was definitely something spooky trying for such a large project.
But if there's one thing I'm so glad I did – it was "saying yes to the scary". Because saying "yes" meant I was choosing me, investing in myself and my business and diving back into the craziness of the art world full force.
Bring it on.